Road-tripping from Bucharest to Sofia: A journey across the ages
If you're planning on visiting Romania and Bulgaria, a road trip between their respective capitals – Bucharest and Sofia – has much to offer. Whichever route you choose, you'll embark on a journey rich in history, culture, and natural beauty. In this article, we'll guide you along three of the major routes. We've included the cities and towns you'll pass through, the various roads, and some of the attractions worth a visit.
A Relationship Forged in Time
The shared history, cultural similarities, and tradition of cooperation have all shaped the relationship between Romania and Bulgaria. As neighbouring Balkan states, they enjoy a common heritage which has sustained diplomatic relations. This has resulted in numerous collaborative efforts in various fields. They work together to develop infrastructure, boost the economy, and protect national interests. Their common border lends itself to tourism, cultural exchanges and more.
Before you set off for Sofia, remember you are required to have a vignette to use the motorways in Bulgaria. As soon as you cross the Bulgarian border, a valid vignette needs to be activated for your vehicle. The Bulgarian police is known for its strict controls around border crossings. We know off people driving during the night who got caught for not having a valid vignette. Do not take the risk and ensure you've bought it while still driving in Romania.
Romania: Of Vampires and Vineyards
This captivating Eastern European country attracts visitors from across the world. From Transylvania, complete with spooky castles, to UNESCO-recognised monasteries, the historical treasures seem infinite. For nature enthusiasts, the Danube Delta is a haven for wildlife, while the Carpathian Mountains draw hikers. Its cities are a melting pot, with many boasting a contrasting blend of tradition and innovation. The arts scene and nightlife are incredible. Romanians are, by nature, hospitable. As eager to share a story, as they are to recommend a local delicacy. Interested in learning about other road trip options? Read about the highway to the Black Sea.
Bucharest: Eastern Europe's Little Paris
The capital, Bucharest, captures the old and new themes typical of Romania. Known as "Little Paris'', it is elegant in its architecture and romantic in its appeal. You can hardly miss the Palace of the Parliament which is one of the largest buildings in the world. For something more serene, Herastrau Park lets escape the surrounding hustle. The adjacent Arch of Triumph is a reminder of the noble past of this proud nation. If you enjoy cities and you enjoy history, you really can't go wrong in Bucharest.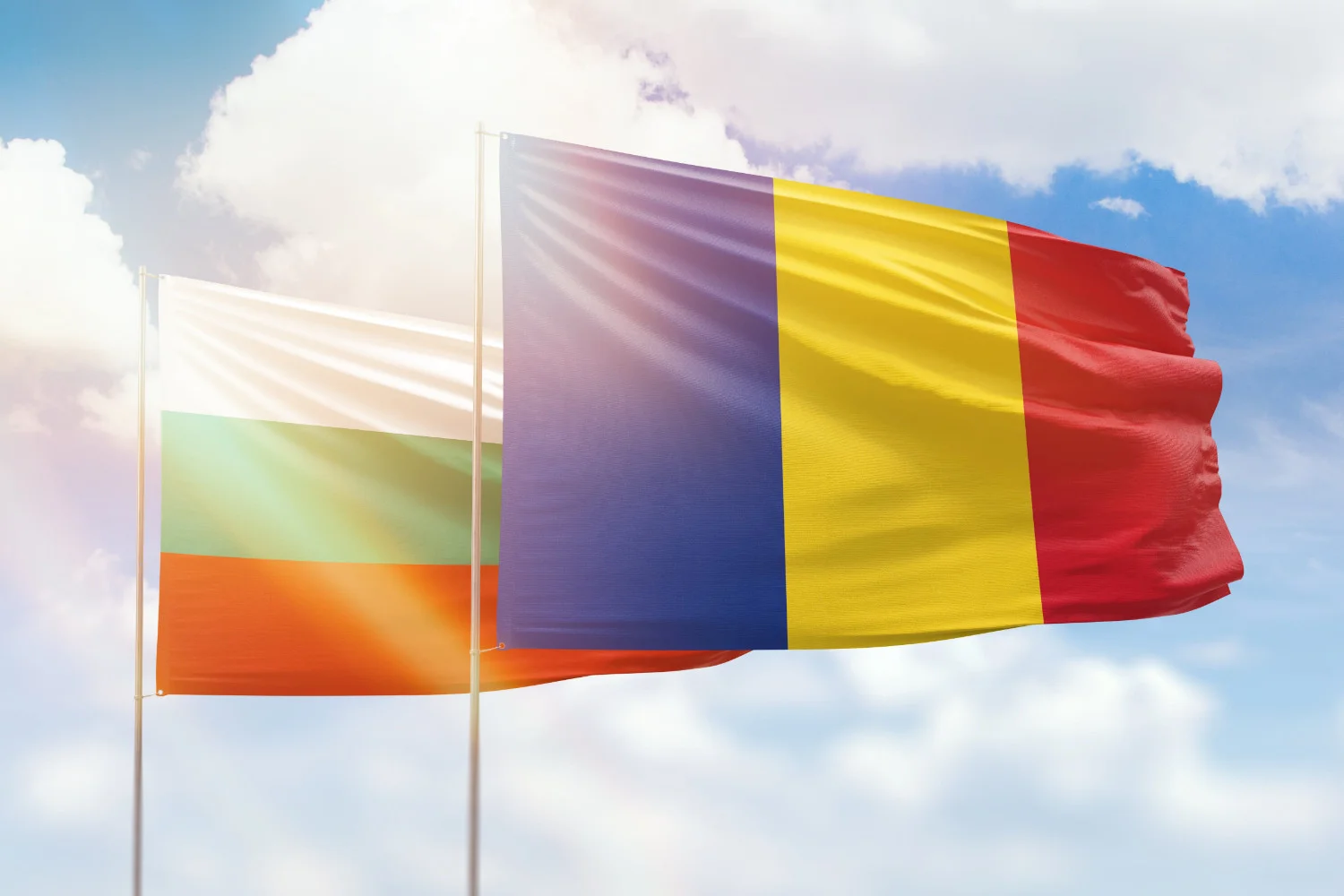 Bulgaria: Compact in size, huge in history
Bulgaria lies nestled in the towering Balkan Mountains. It weaves history, scenery, and hospitality, resulting in a country that entices many visitors. Ancient Roman ruins, stunning cathedrals, and quaintly preserved villages dot the landscape. Bulgaria is a historical treasure chest. Those seeking diverse outdoor attractions won't be disappointed. From the popular beaches on the Black Sea to the rolling mountains, nature lovers are well-catered for. Speaking of catering, it seems every town has mouth-watering delicacies to sample. To really enjoy the countryside, you might consider driving with a motorhome in Bulgaria. Travelling with a motorhome give the freedom to stop on more scenic places in the country. Bucharest, Sofia, the Black Sea Highway, North Macedonia and Serbia: all is within reach when you have a motorhome.
Sofia: A seamless blend of old and new.
Reflecting diversity in a microcosm, Sofia encapsulates the best of the past and the present. A historical surprise awaits around every corner. The spectacular architecture houses a wealth of cultural treasures. Do not miss the Alexander Nevsky Cathedral, or St. Sofia Church in historic Serdica. Museums boast of both the country and the city's past. Along the streets, sidewalk cafes tempt one with a mix of aromas, while select boutiques and busy markets vie for your trade.
Major Routes from Bucharest, Romania, to Sofia, Bulgaria
A road trip between Bucharest and Romania is a great way to explore the countryside, the culture, and the cuisine of these diverse, yet similar, nations. Below, we detail three of the major routes one can use.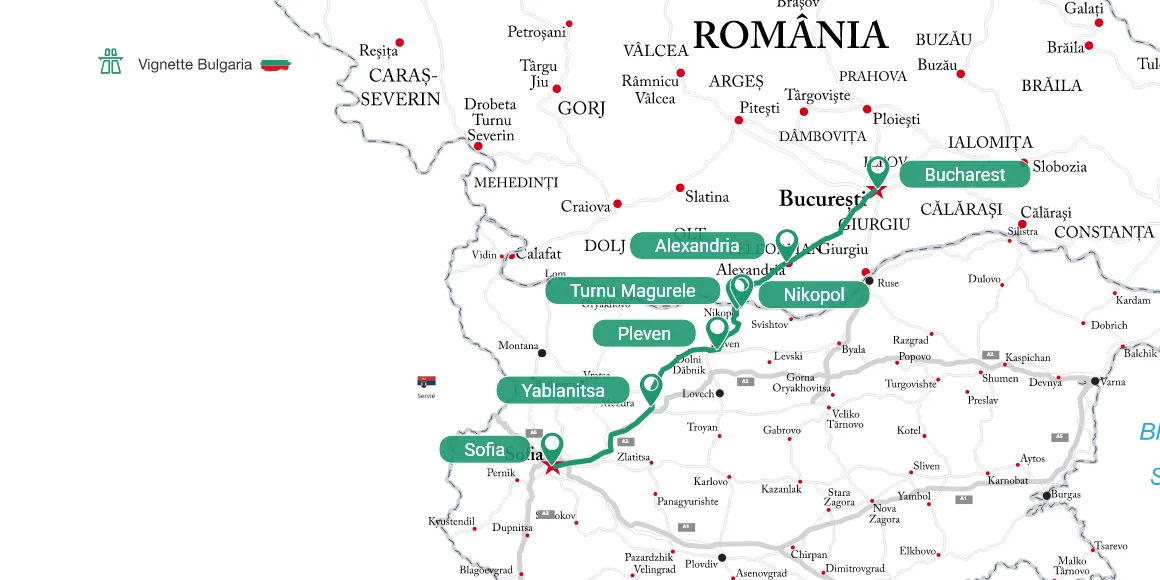 Route 1: Bucharest to Sofia, via Alexandria, Turnu Magurele Border Crossing and Pleven
This is the most direct and shortest in terms of distance, covering 355 kilometres, in around 5.5 hours. Leaving Bucharest on the E70/DN6, travel 88.7 km to Alexandria. Here you can visit:
St. Alexander's Cathedral, built in 1812
Teleorman Museum - showcasing history and culture from past to present
The Orthodox Church of Holy Emperors - known for its distinctive colour and bell tower
From Alexandria, take DN56 for 47 km to Turnu Magurele on the Danube River. Clear the border before driving onto the ferry across the river. Now in Nikopol, Bulgaria, travel for 64 km on Road 34 to Pleven. Take a break here while exploring: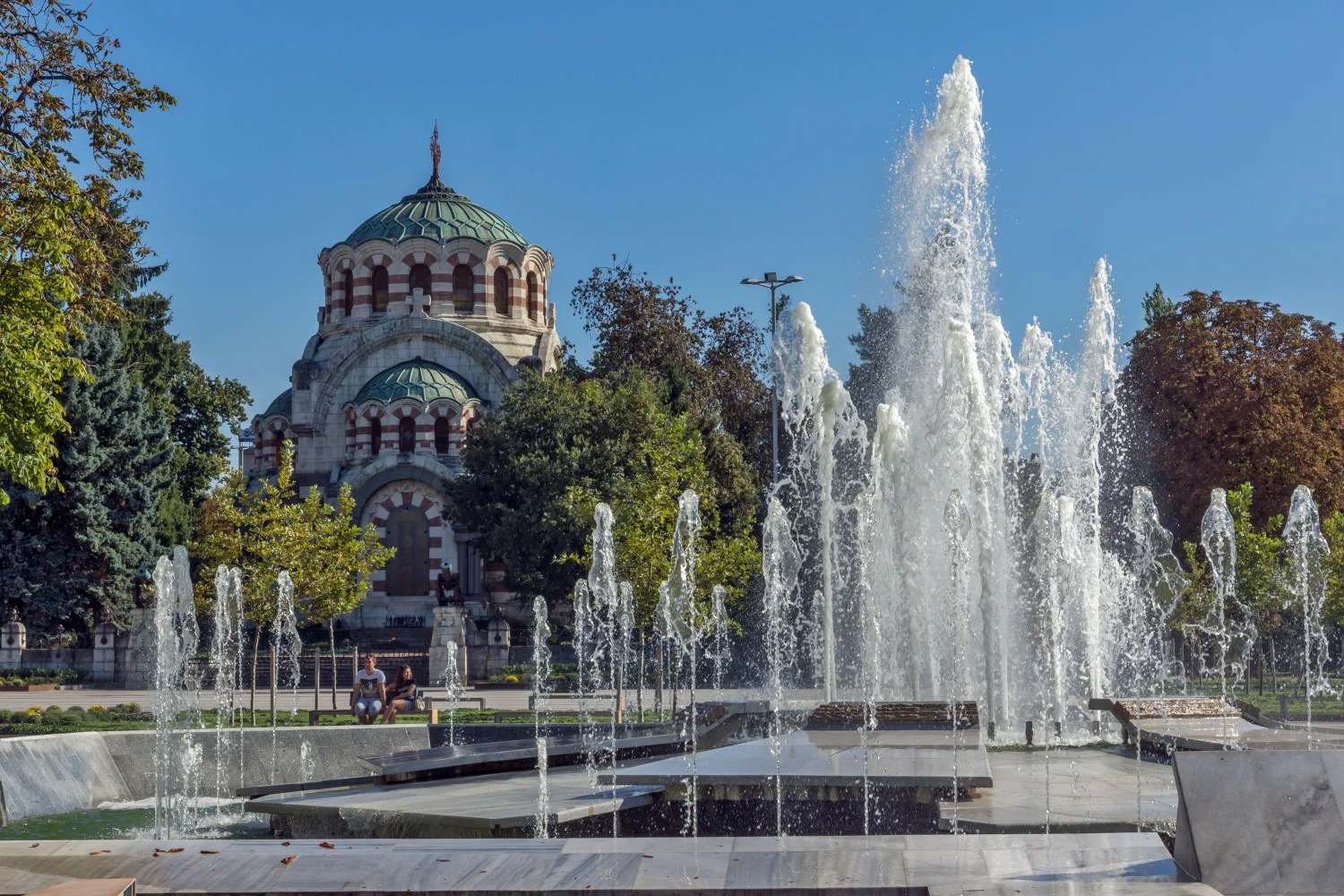 St. George The Conqueror Memorial - devoted to Romanian and Russians who died in defence of the city in 1877.
Skobelev Park - Site of the aforementioned siege, which includes a museum.
Pleven Panorama - A 360-degree diorama depicting the Siege of Pleven.
From Pleven, follow the E83 to Yablanitsa, where it merges with the A3. After 163 km, you will reach Sofia.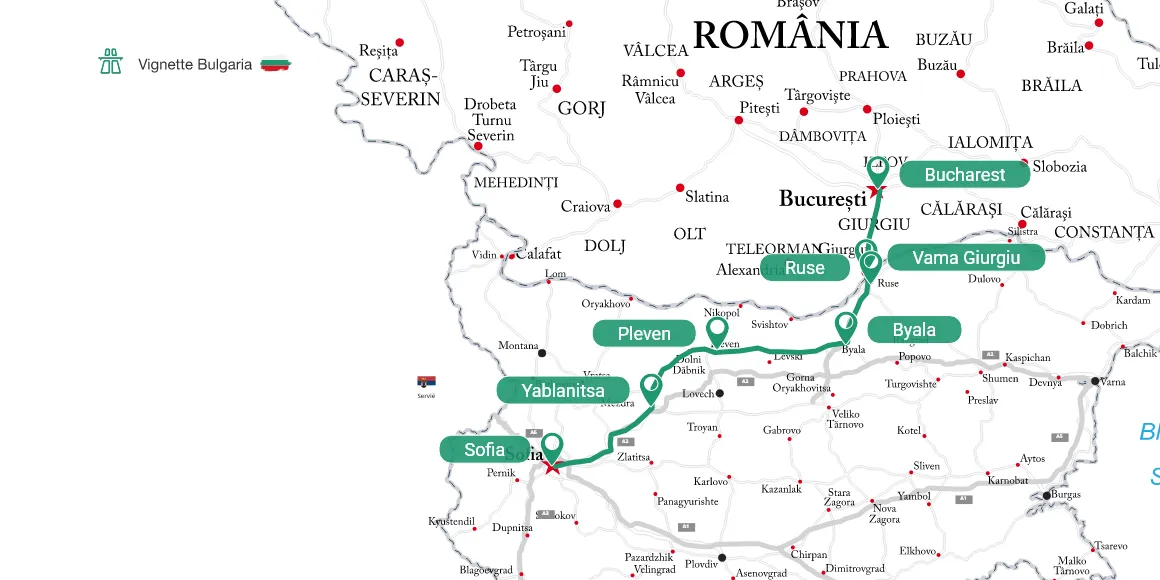 Route 2: Bucharest to Sofia, via Vama Giurgiu Border Crossing and Ruse
This is considered the fastest route and covers 384 km in just over 5 hours. Depart Bucharest on E85/DN5 to the Vama Giurgiu Border Crossing, over roughly 63 km. Clear the border and you can take a break here to visit some local attractions in Ruse: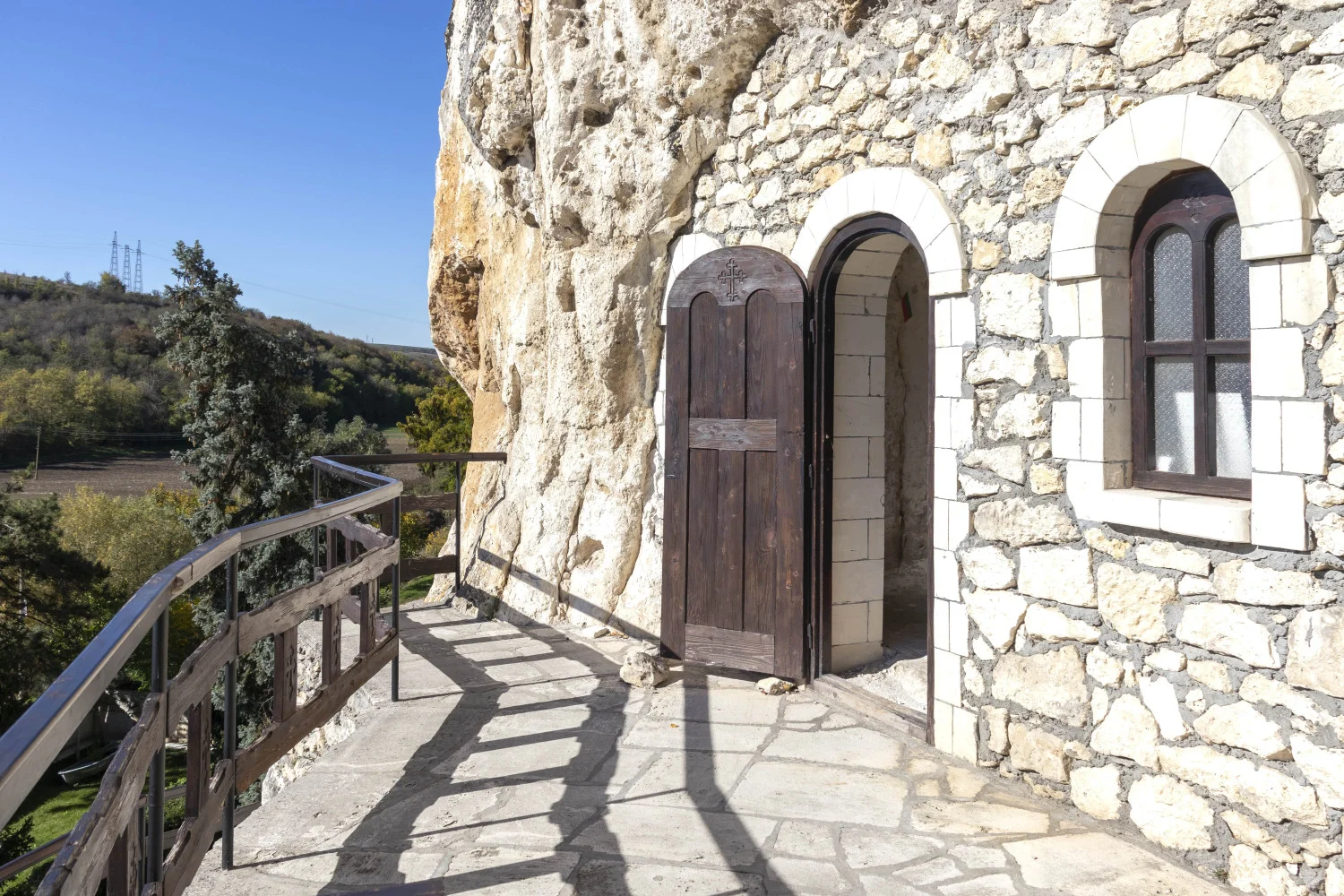 Basarbovo Monastery - carved into the mountainside, it dates to the 15th century, and is the only monastery of its kind in Bulgaria.
Rock Churches of Ivanovo - A UNESCO World Heritage Site that consists of mediaeval churches famous for their frescoes
Rousse Tower - a 204-metre tower with views of the city. Includes a rotating restaurant.
From Ruse, head to Pleven (see Route 1) on E85 until after Byala, where you take the E83 on to Pleven and Yablanitsa. From here, the A2 motorway will take you to Sofia.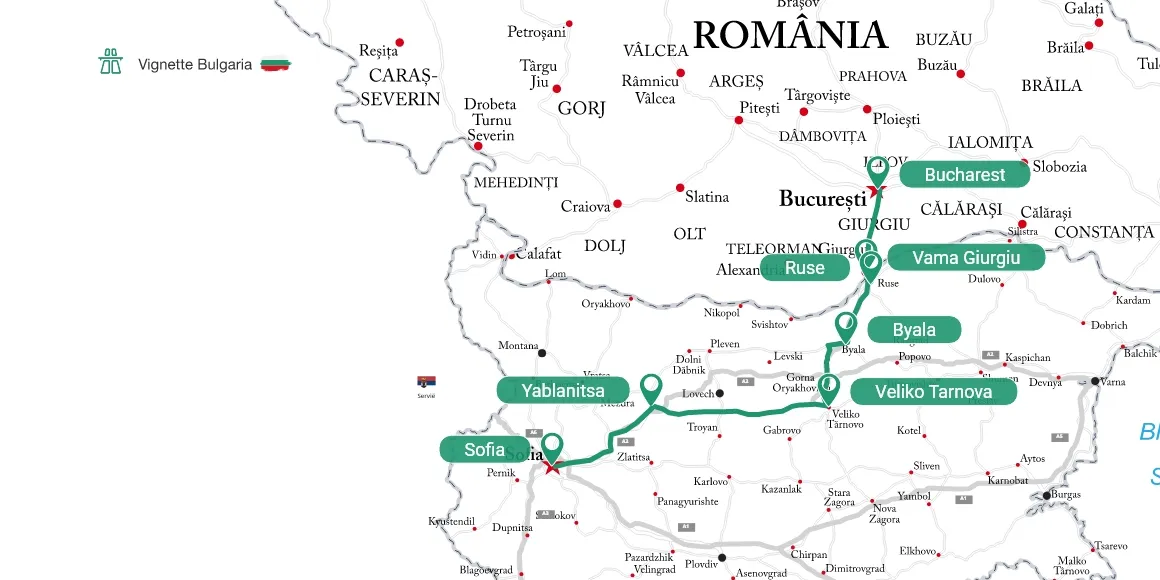 Route 3: Bucharest to Sofia, via Vama Giurgiu Border Crossing, Ruse, Veliko Tarnova
Follow the directions of Route 2 until you get to Ruse, Bulgaria. From Ruse, take the DN5/E85 for another 182 km until you reach Veliko Tarnovo. This quaint village is said to be the historical and cultural capital of Bulgaria. It is a great place to take a break and explore the surroundings: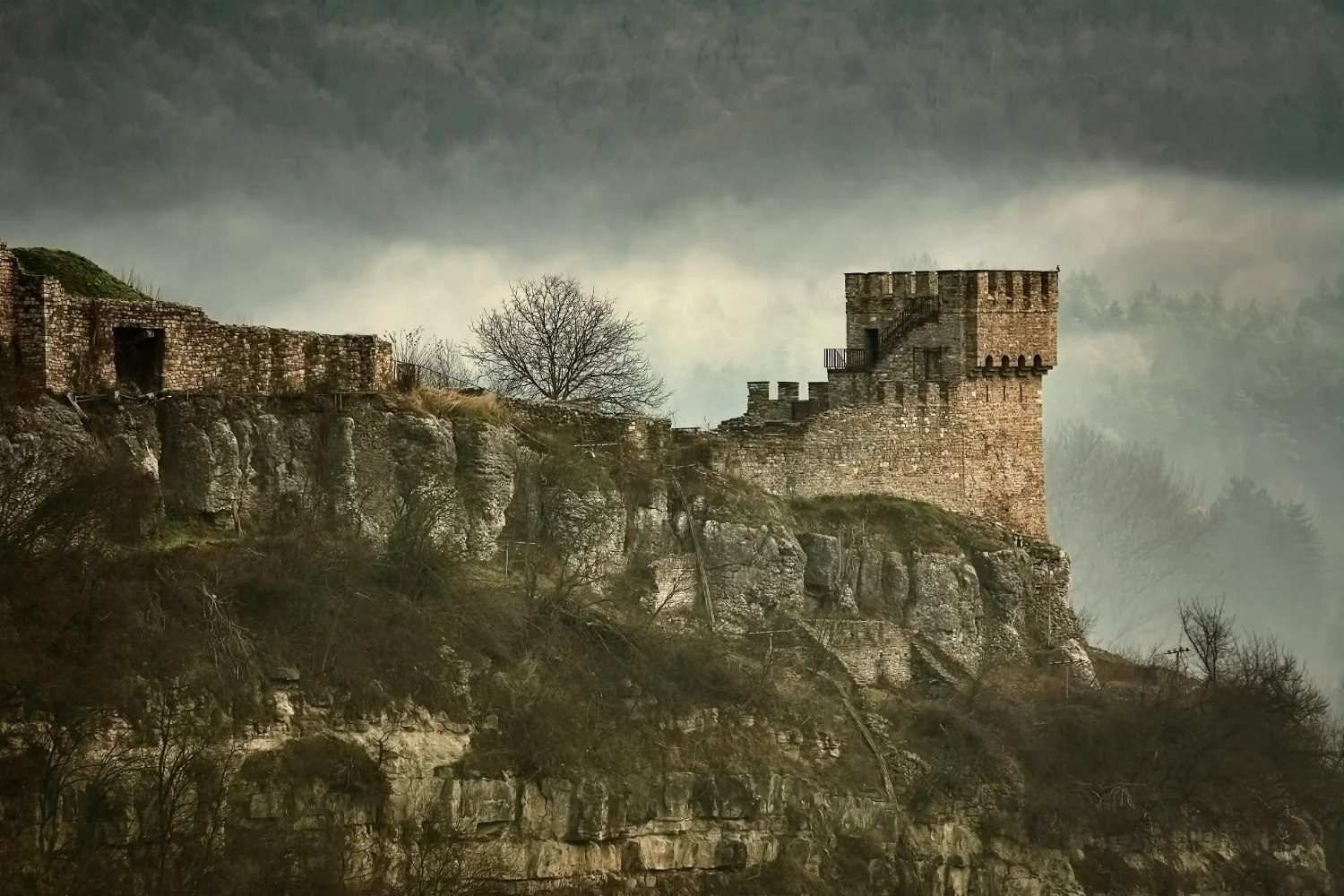 Fortress of Veliko Tarnovo-Tsarevets - enjoy the nightly light show at the one-time capital of the Second Bulgarian Empire.
Trapezitsa Ruin - ride the funicular to enjoy a magnificent view of the city and Yantra River valley
Gurko Street - Step back in time as you wander past traditional houses and sample delicacies in the cafes.
From here, take the E72/A4 onward for 135 km to Yablanitsa. There are several places of interest here, including:
Glozhene Monastery - A mediaeval Orthodox monastery overlooking the landscape
Saeva Dupka Cave - Marvel at the bizarre underground formations on a guided tour
Lakatnik Rocks - Stretch your legs with a hike among the rock formations, enjoying spectacular views.
From Yablanitsa, join the A2 motorway, which will take you 89 km to Sofia.
So Much More to Explore
The routes above are just three of the roads that connect the city. There are many back roads, places of interest, and natural attractions. With a little time and planning, you can tailor your route to suit your particular interests, be they historical, cultural, or natural. Whatever you choose, and however you get there, you can be assured of a memorable adventure.