Exploring Bulgaria in a Motorhome: The Ultimate Guide for Adventurers
If you'd like to explore Eastern Europe, a motorhome holiday in Bulgaria is a fantastic place to start. Travelling this way promises freedom and adventure. And Bulgaria, with its scenery, culture, and hospitality has these in abundance. This comprehensive guide aims to provide the essential information needed for a holiday to remember.
Traffic Regulations
Here are some basic rules of the road in Bulgaria:
Vignettes: Locally known as "viniety", these are obligatory stickers attached to your windscreen. They must be displayed for legal road travel, as they validate toll and road usage fees. Learn more on our home page.
Rules of the Road: Drive on the right-hand side and overtake on the left. Dimmed headlights must be on during the day. Do not use your mobile phone while driving.
Speed limits:

Urban roads - 50 km/h
Rural roads - 90 km/h
Motorways - 130 km/h

Seatbelts and child restraint seats: All passengers over 150 cm wear a seatbelt. Secure children in appropriate car seats.
Driving under the influence: The blood alcohol limit is 0.05%. Drug use is prohibited.
Road conditions: Badly potholed roads are common in rural areas and care must be taken at all times. Drive defensively; look out for pedestrians and livestock.
Motorhome Essentials
Before departure, consider the following:
Whether you rent or own your motorhome, ensure that it is well-maintained and caters to your requirements. If renting, research the supplier.
Familiarise yourself with motorhome regulations - This includes the type of driver's licence required, age restrictions, insurance, road taxes and tolls, and size limitations.
Make sure to inform yourself well if you'll be having a dog with you.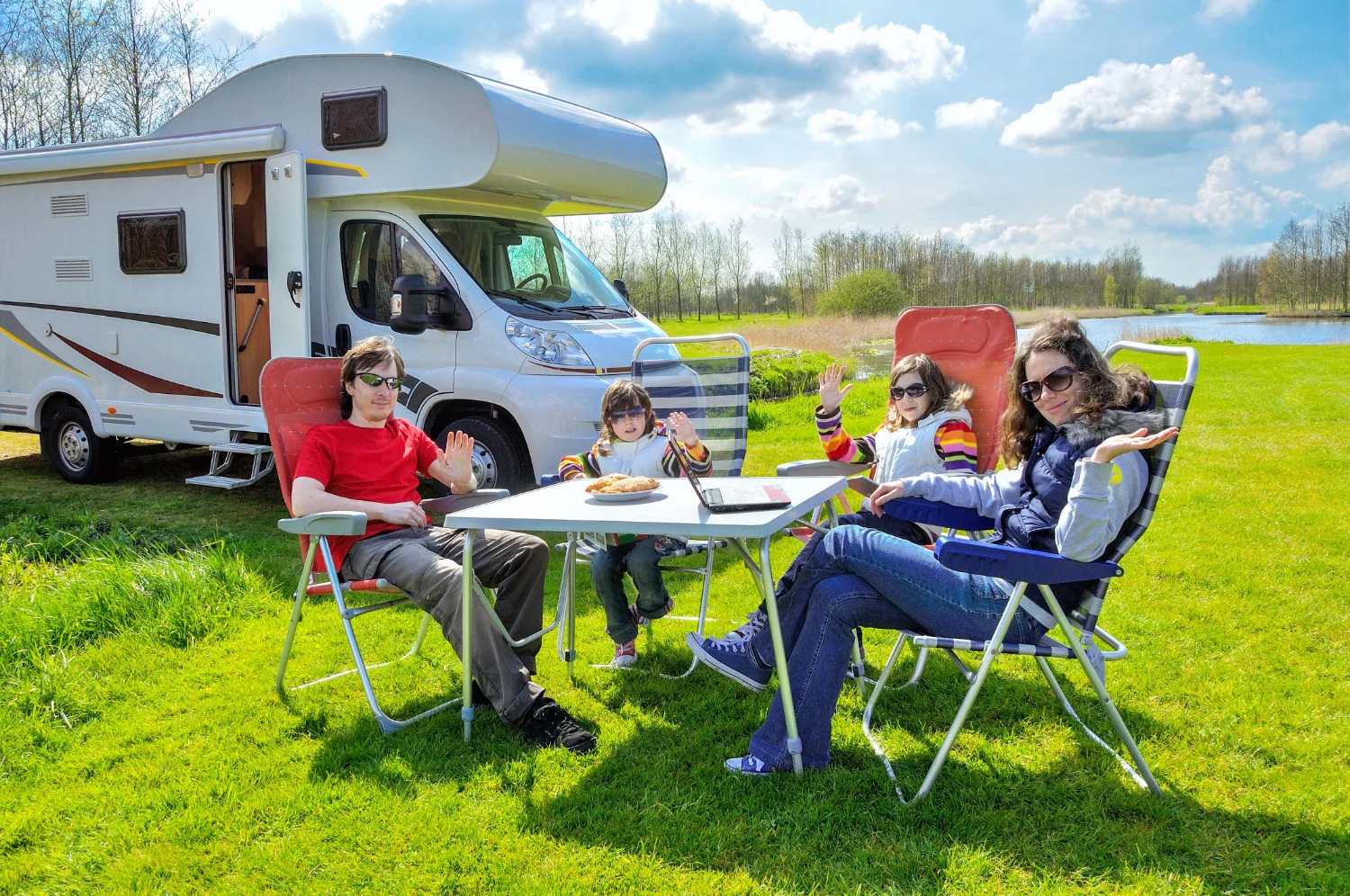 Where to camp
Designated campsites
Numerous campsites cater specifically to motorhomes, with electricity, water, and waste disposal provided. Popular options include Camping Veliko Tarnovo, Camping Kiten, and Camping Kromidovo.
Wild camping in Bulgaria
Although wild camping is technically illegal in Bulgaria, the authorities and locals generally have a relaxed attitude to the practice. Nevertheless, don't just assume it is okay to do so.
Do not camp in protected or urban areas
Ask permission from the landowner before setting up camp
Be aware of any restrictions (e.g., fire bans)
Tips for responsible wild camping
Remove your waste and do not harm the environment.
Practice fire safety. Be especially careful in the dry season.
Conserve water - minimise usage, recycle, and use eco-friendly cleaning products.
Respect nature - do not disturb wildlife and stay on designated trails.
Seasonal considerations
When planning your trip, consider the season and how that may affect your experience.
Weather patterns: Bulgaria experiences hot summers and cold winters, often with snow. The coastal climate is Mediterranean, while the mountains are much cooler. When packing, consider the expected weather and pack accordingly.
Peak vs off-peak travel seasons: Spring (April, May) and autumn (September, October) have pleasant weather and fewer crowds.
Considerations for winter travel: Prepare for cold conditions including snow. Monitor road conditions and carry snow chains. Mountainous areas may become inaccessible, so keep informed and have a contingency plan.
Popular destinations for motorhome holidays
If you're travelling from Bucharest to Sofia, this article will help with planning. Bulgaria abounds with destinations ideal for motorhome vacationers:
Veliko Tarnovo and the Balkan Mountains
Bulgaria's cultural and historical capital, this ancient town is full of traditional architecture, including a hilltop fortress. More glorious views, quaint villages, and hikes await on a drive through the Balkan Mountains. Koprivshtitsa showcases beautifully preserved 19th-century architecture.
Bulgarian craftsmanship is on display at the Etara Open-Air Ethnographic Museum. Pick up some handmade trinkets in the gift shop.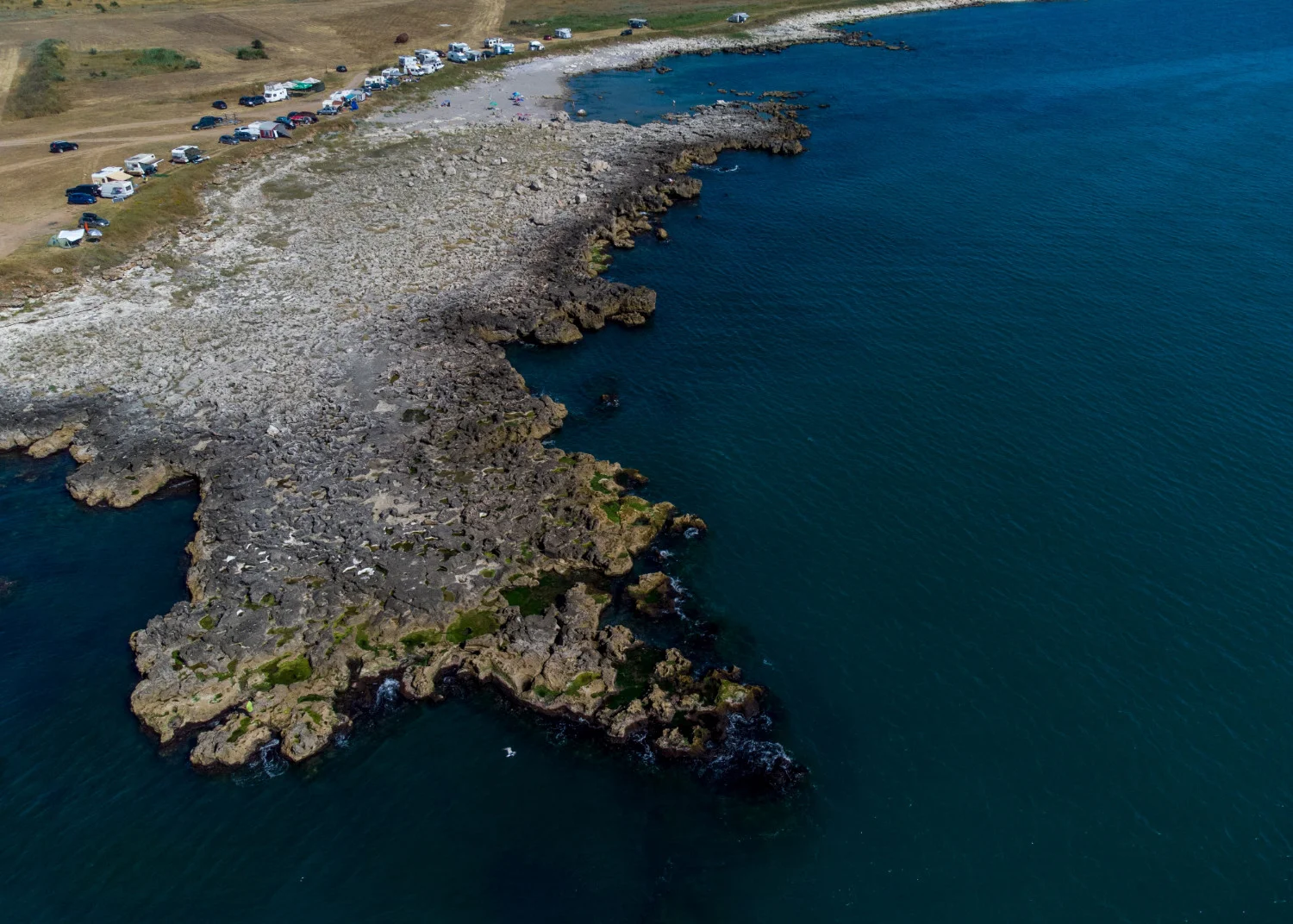 The Black Sea Coast
Sunny Beach is renowned for its leisure and entertainment options. While nearby Golden Sands, true to its name, is a beach and nature lover's delight.
Visit Nessebar, a World Heritage Site boasting ancient architecture dating back to the Middle Ages.
Rhodope Mountains
The mystical Rhodope Mountains, with their steep valleys, blue lakes, and mediaeval monasteries just ooze history and folklore.
An engineering masterpiece, Devil's Bridge spans the Arda River near the traditional hamlet of Shiroka Laka.
In the Trigrad Gorge, view the fantastic formations in Yagodina and Devil's Throat Caves.
Rila National Park
Home to Bulgaria's highest peak - Mount Musala - this vast reserve bustles with fauna in flora.
Rila Monastery is a UNESCO-recognised attraction, revered for its decor and air of spirituality.
Experience the Seven Lakes of Rila. Hiking trails of varying difficulty crisscross the landscape.
Pirin Mountains
The range is a UNESCO World Heritage Site, attracting hikers and campers with high peaks and pristine habitats.
Bansko ski resort is well-regarded by winter sports enthusiasts. While the old town village is ideal for après-ski.
This area is a great for photographers and nature lovers.
Cultural Highlights
Beyond its natural beauty, Bulgaria boasts numerous cultural and historical attractions: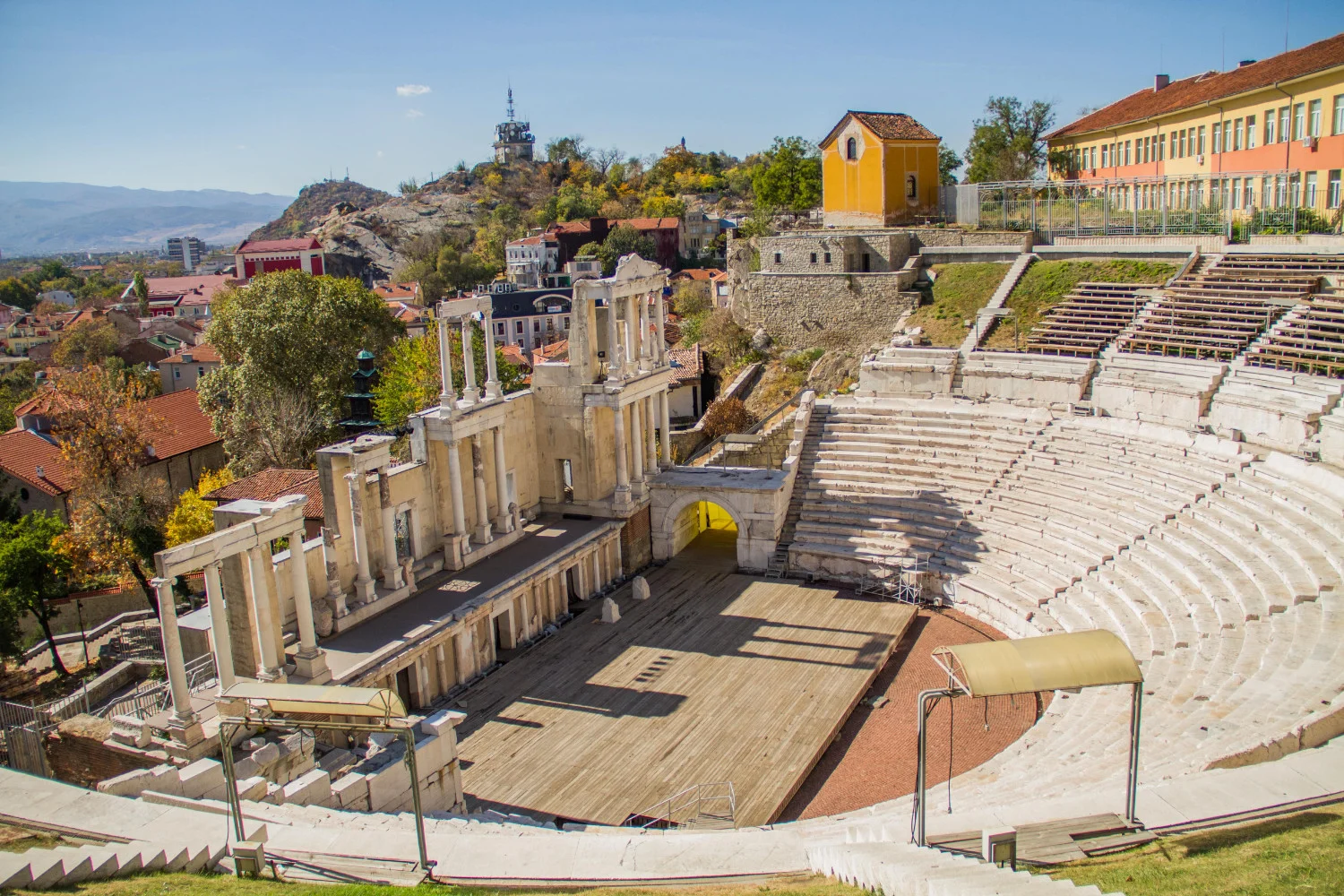 Historical sites
Perhaps the most well-known in Bulgaria is the ancient city of Plovdiv. Here you'll see ruins dating back to Roman times. The Thracian Tomb of Kazalnak boasts amazing frescoes and is a UNESCO World Heritage Site. Sofia has its fair share of attractions. Check out the ancient ruins in the Serdica Complex and the Alexander Nevsky Cathedral.
Bulgarian cuisine
The food in Bulgaria is rightfully considered a great reason to visit all on its own. You could try a cheese-filled banitsa for breakfast, and a turshiya pickled vegetable salad for lunch. For dinner, traditional Kjufteta po Chirpanski meatballs washed down with a Black Sea Riesling.
Festival and events
Festivals are a great place to immerse yourself in local culture. In January, Pernik hosts the Kukeri Festival, which sees masked dancers ward off evil spirits. The Festival of Roses in early June celebrates Bulgaria's thriving rose oil industry. August normally sees the Zheravna Festival of National Costume, a colourful occasion of cultural significance. Feel like some noise? The Wrong Fest in Voinegovtsi village showcases international alternative music in July.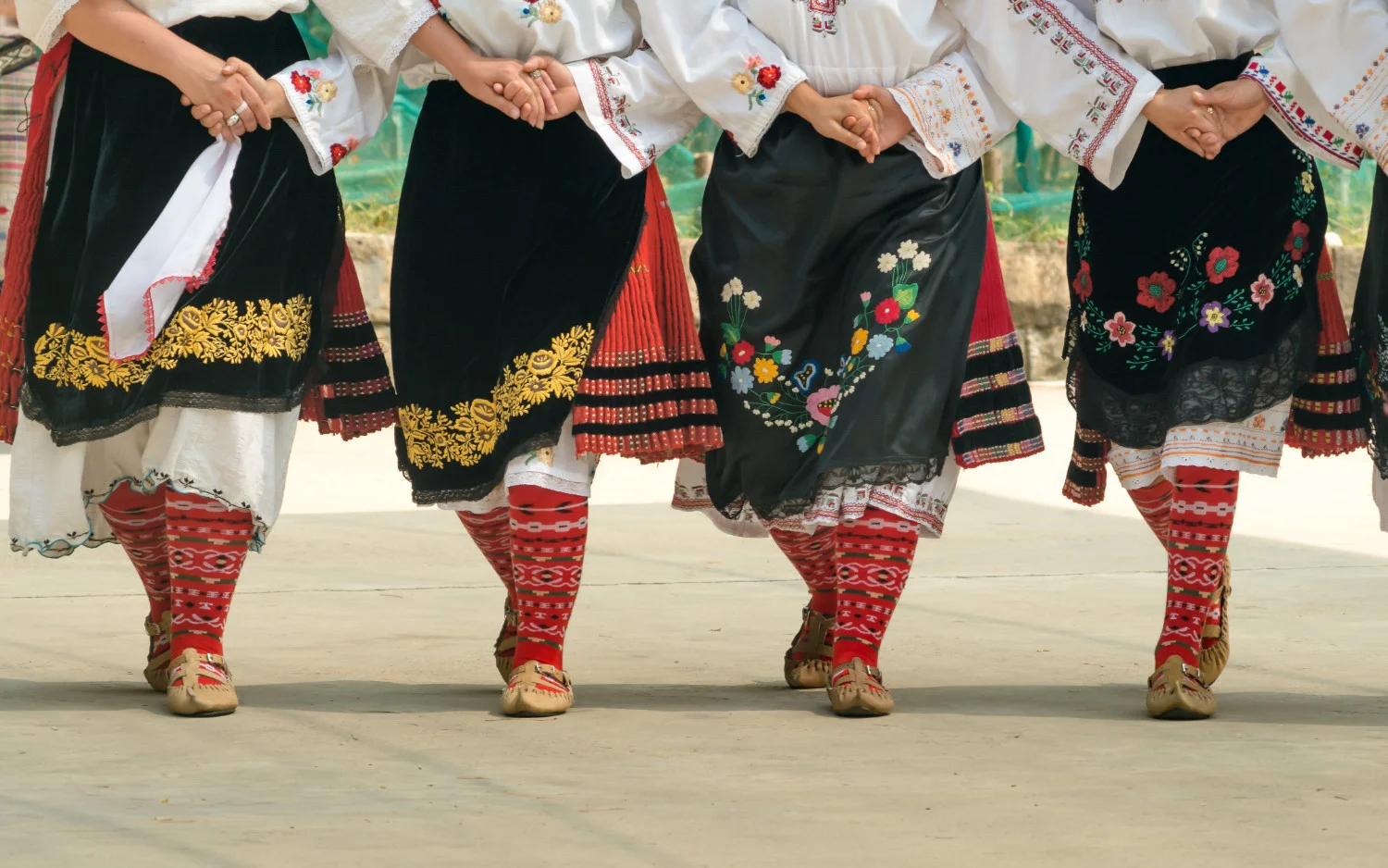 Local traditions
Bulgarians are innately hospitable and ready to share their cultural eccentricities. It doesn't take much for a horo – a traditional circular folk dance – to get underway. Especially if the rakia (fruit brandy) is flowing.
Safety and Security Tips
For a safe motorhome adventure, remember the following:
On the road – Drive defensively and avoid driving at night.
Lock it up – even if wild camping, be sure to lock up your belongings.
Camp in designated areas - while wild camping sounds like fun, official campsites are much more secure.
Emergency contact numbers
Keep these numbers on hand in case of emergency
Police – 166
Fire/Rescue – 160
Ambulance – 150
BULSAR (Bulgarian Black Sea Search & Rescue) – 088 161
Roadside assistance (Sofia) – 1286
Roadside assistance (Countrywide) – 146
European SOS – 112
Bulgaria truly boasts a wealth of excellent reasons to visit. Whether to connect with nature, connect with her people, or connect with history – there is something for everyone. We encourage you to prepare well for your adventure and then set off with an open mind. Bulgaria is sure to surprise you!