Traffic Regulations and Speed Limits in Bulgaria
The Gold Beach on Bulgaria's Black Sea coast is popular with European holidaymakers. If you plan on travelling to the region in the east of the country by car, you should enquire about the traffic regulations in Bulgaria beforehand. Holidaymakers who do not know the rules or even disregard them must expect hefty fines.
The traffic regulations in Bulgaria differ in part from the rules that apply on other European roads. This does not only apply to the speed limit on Bulgarian motorways, but also to other regulations regarding behaviour in road traffic.
In this article, we will cover the most important regulations and reveal how you can avoid fines on your way to Bulgaria.
Breaking the rules can be expensive! By using our information, you will reach your destination on the Black Sea quickly, safely and without complications.

Travelling to Bulgaria by car: what do you have to keep in mind?
When driving in Bulgaria, there are a few things to keep in mind. Most drivers first think of the maximum speed allowed on the roads. However, it is also the small differences, such as the display at traffic lights that can cause confusion among drivers.
To give you an overview of the most important traffic regulations in Bulgaria, we have compiled all the important aspects for you. Look at the individual aspects and prepare optimally for your upcoming trip.
European drivers should know that vignettes and tolls are compulsory on Bulgarian national roads. Nowadays, the vignette for Bulgaria—or BGTOLL—is only available digitally. The vignette in the form of a sticker was replaced by an electronic one a few years ago.
Now, there are no more excuses. Buying the vignette has never been so easy. Many drivers choose to pay the fees before even entering Bulgaria. All you must do is provide a few details about yourself and your vehicle online and you will receive a confirmation e-mail shortly after.
In some European countries, there is no general speed limit that applies to all motorway sections. In Bulgaria, different rules apply. On the country's motorways, drivers must adhere to the speed limit of 130 km/h.
A speed limit of 140 km/h applies only if the motorway in Bulgaria is a new section of road that is in an appropriate condition.
Outside of towns or cities, cars are limited to 90 km/h, and inside towns or cities to 50 km/h. On the roads, a distinction is also made between individual vehicles. For motorcycles, sidecars, or motorhomes (light or heavy), a different speed limit applies in each case.
To make sure you are driving within the speed limit on all road sections, you should always pay attention to the corresponding traffic signs while you are travelling.
At first glance, the traffic lights in Bulgaria don't differ from those found elsewhere in Europe. If the traffic light is red, you stop. If it is green, you go.
In Bulgaria, however, a closer look reveals a special feature: a second counter indicates the duration of the respective traffic light phase. This is an extra feature that does not exist in many other European countries. Anyone who runs a red light must pay a fine, but more about that later.
In many parts of Europe, if you park illegally, you will receive a relatively low fine. The fines in Bulgaria, however, are significantly higher. Travellers who want to park their car in one of the designated zones on the street must purchase a parking ticket in one of the surrounding sales points (e.g., a kiosk).
It is important to write the date and time of your arrival on the ticket. Payment by SMS can only be made if you have a Bulgarian mobile phone. For holidaymakers, therefore, in most cases, only the first option is available.
Another rule in Bulgaria is that you can only park on the right-hand side of one-way streets. Anyone who disregards this rule must also pay a fine.
Travellers who are not aware of the blood-alcohol limit in the country not only face a considerable fine but also risk losing their driver's license right away.
Probably one of the most important rules when driving is: NO alcohol when behind the wheel. In Bulgaria, the blood-alcohol limit is 0.5 ‰, which is the same for all road users, including novice drivers.
For many people, it is part of their holiday to have a glass of wine or a beer at dinner. However, anyone who plans on driving after dinner, should stay away from alcohol.
After all, it's not just fines that are imposed but also driving bans. These strict traffic regulations not only apply for Bulgaria but also for other EU countries.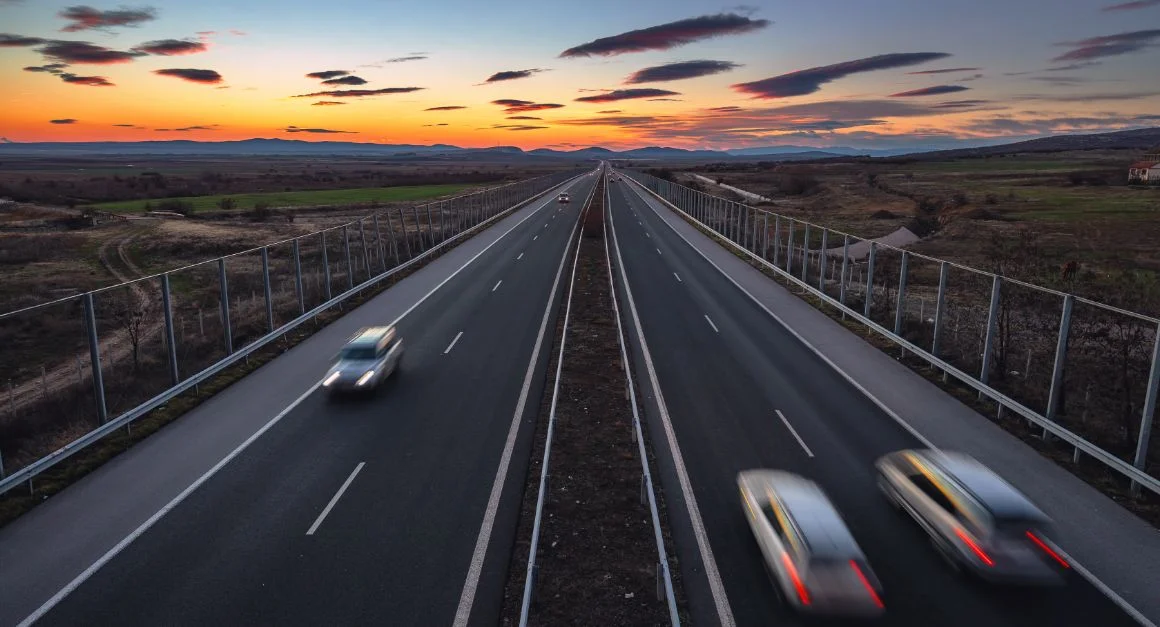 Traffic regulations in Bulgaria: Catalogue of fines
The catalogue of fines specifies the penalties that apply to traffic violations. Accordingly, the catalogue of fines does not only refer to the motorways in Bulgaria, but to all the country's roads.
If you receive a fine notice in the mail after your holiday, you should know that you cannot simply ignore it. Since Bulgaria is a member of the EU, the fine can also be enforced in your home country.
Violations of the speed limit
If you are speeding by at least 20 km/h, you can expect to pay a fine starting at 25 Euros. For driving more than 50 km/h over the speed limit, the costs are significantly higher.
The catalogue of fines prescribes a fine starting at 300 Euros. The exact amount depends on the measured speed and can therefore not be determined in advance.
Other violations
As mentioned before, if you exceed the blood-alcohol limit, you must expect a high fine. In this case, you will pay between 250 and 1000 Euros.
Other violations that are addressed in the catalogue of fines are: driving while on the phone, parking violations, running red lights, and driving without a seat belt. The fines for these offences range from 10 to 50 Euros.
Transporting children (up to 12 years of age) without appropriate safety measures is also punished as an offence.
Which items are you obliged to carry in your vehicle in Bulgaria?
Every driver is responsible for enquiring about the items they are obliged to carry in their vehicle in Bulgaria and must equip the vehicle with the appropriate items.
In Bulgaria, for example, all passengers in the vehicle must have a high-visibility (reflective) vest. In addition, a first-aid kit and a fire extinguisher should be available in the vehicle.
Also, your identity card or passport is considered the most important travel document. Furthermore, your driver's license or the first part of the registration certificate should be available while on your holiday.