Exploring the Road from Belgrade, Serbia, to Sofia, Bulgaria
For those who'd like to set off on a road trip from the Serbian capital, Belgrade, to the capital of Bulgaria, Sofia – there is much to look forward to. Not only is the route incredibly scenic in places, but it also traverses land steeped in history and culture. En route, you'll visit cities where the past and present meet and encounter warm hospitality throughout. Travelling between the two great cities is both convenient and interesting – with plentiful opportunities to immerse yourself in the culture, sample the cuisine and savour the natural beauty of the Balkan region.
Below, we'll dive into the history of the route, share information related to using the road; such as tolls and services, and highlight some of the key tourist attractions that are easily accessed along the way. By the end, you should be itching to jump in your car, equipped with all you'll need to know to ensure a smooth, efficient and interesting journey. Before we set off, learn more about the Vignette for Bulgaria which makes travel both economical and efficient.
A Historical Journey in Less Than a Day
Travel between Belgrade and Sofia dates back hundreds of years. And though the route will have varied somewhat, the modern road still exposes travellers to the rich and complex history of the Balkan region. For centuries, this path was traversed by traders, travellers, and armies, joining the fate and fortune of the two capitals inextricably.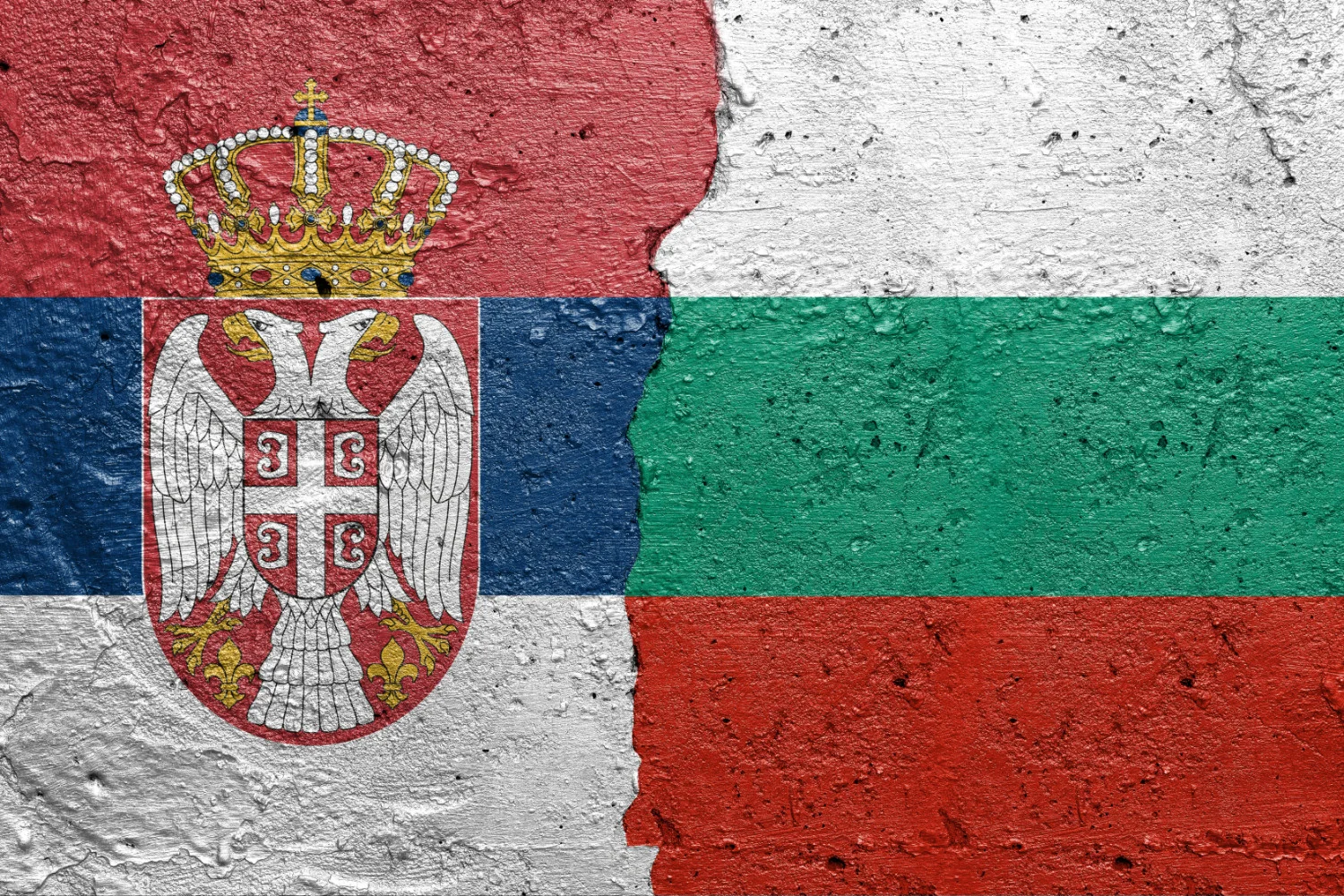 While modes of transport between then and now are barely recognisable, evidence abounds in the fusion of cultures, traditions and heritage. It won't take too much imagination to appreciate what makes this area such a special part of Eastern Europe. If you are on a road trip through Eastern Europe, we highly recommend a scenic road trip along the Black Sea Highway. It's a great route and after some days of sightseeing in Sofia it's a great continuation of your journey.
Tolls and Road Conditions between Sofia and Belgrade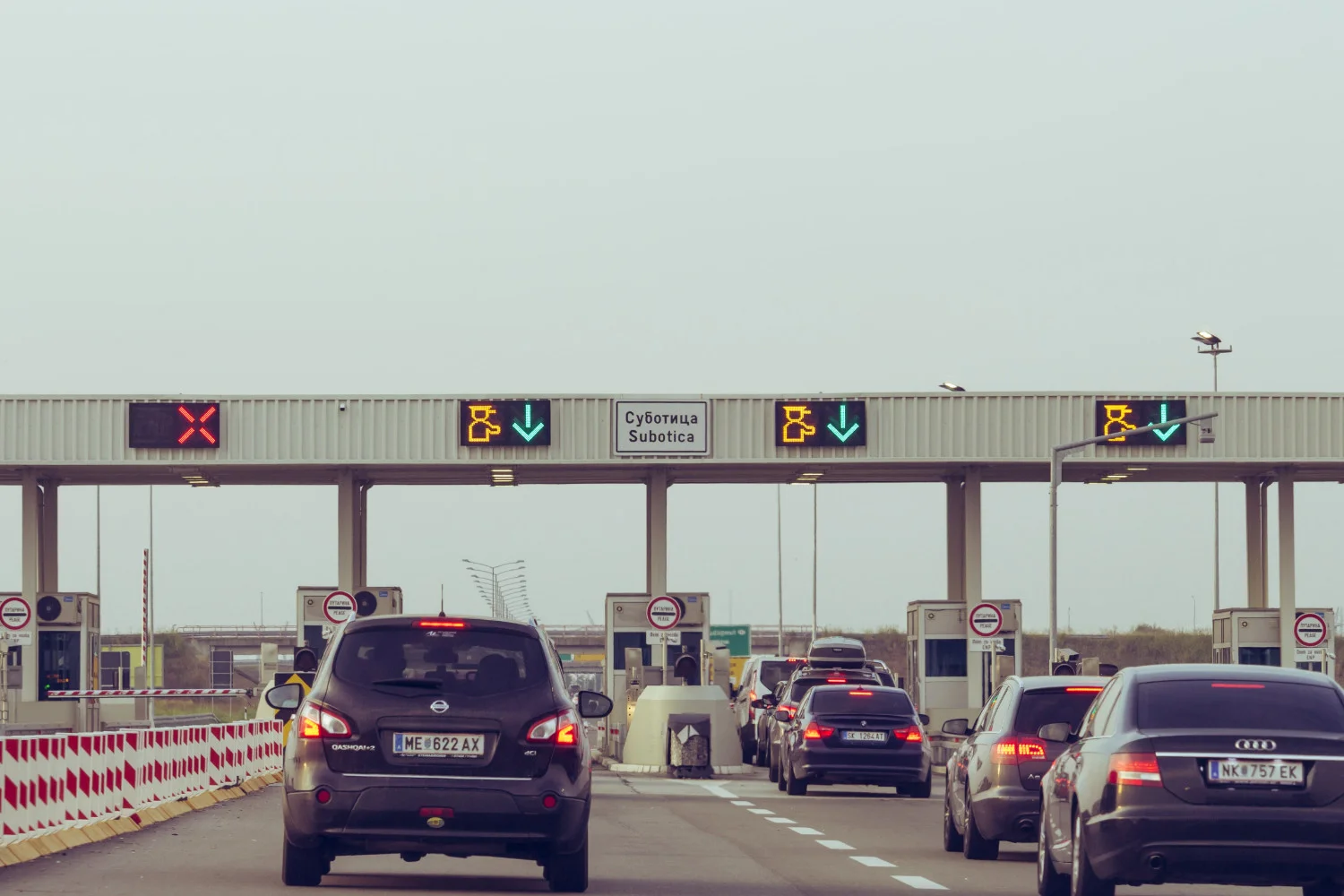 The most direct route between Sofia and Belgrade measures a total of 391 km. Depending on time, weather and traffic conditions, it should take roughly 4.5 hours of driving time to cover. The route is commonly known as the E-80 and forms part of the greater European Road Network.
From Belgrade, the road may also be marked as the A1 until you reach Niš. From there, you join the A4 until reaching the Bulgarian border crossing at Kalotina. From Kalotina to Sofia, the alternate name of the road is Route 8, all the way to Sofia.
Sections of road along the route require the payment of a toll, so you will need to carry either cash or an electronic payment method. Be sure to find out about Vignettes which can be purchased at most service stations and post offices. Hold onto your toll ticket until your journey is over, in case you are required to show it to authorities.
In general, the condition of the road for the entire length of the trip is good. The motorways are well-maintained in both countries, with services available if required. Naturally, it is prudent to adjust your driving to prevailing weather and traffic conditions, particularly in winter.
Major Cities and Towns from Belgrade to Sofia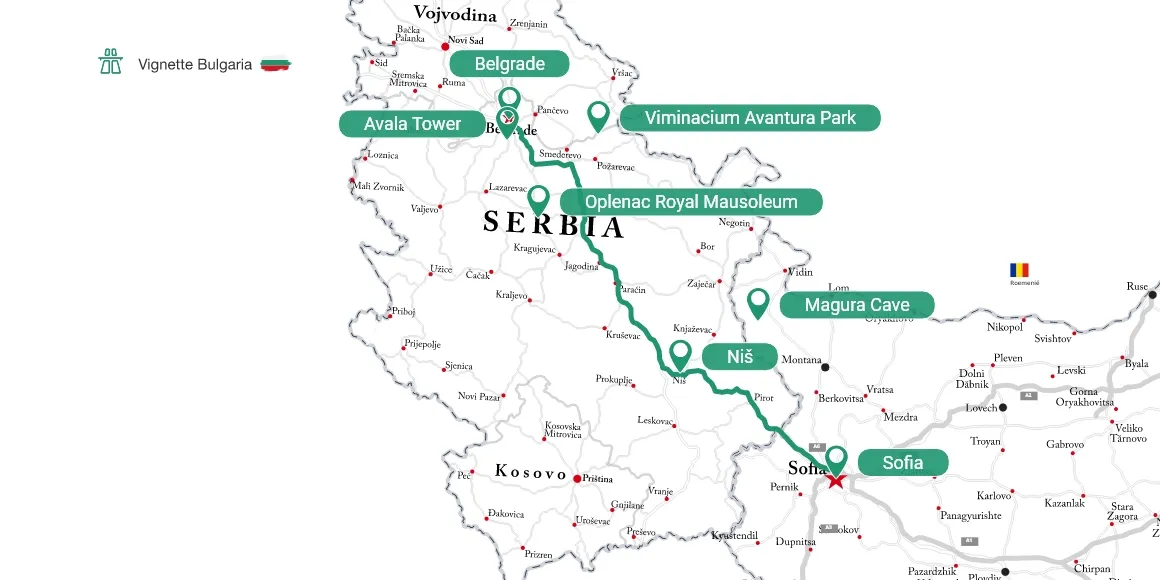 Belgrade (Serbia)
The vibrant Serbian capital has a host of historic landmarks. Be sure not to miss the massive Belgrade Fortress and visit St. Sava Temple to sample neo-Byzantine architecture. The city is lively, made all the better with mouth-watering cuisine and welcoming hospitality.

Niš (Serbia)
Approximately 240 km (2.5 hours) from Belgrade, Niš is a pleasing blend of old and new. Historical highlights include the Niš Fortress, built in the 18th century by the Ottoman Turks. For a fix of the macabre, see the Skull Tower, embedded with the skulls of fallen rebels. Thankfully, Niš is now known for a convivial atmosphere celebrated with local delicacies.
Sofia (Bulgaria)
Like Niš, the Bulgarian capital is a captivating mix of the old and the new. Among its many landmarks, the Bulgarian Orthodox Alexander Nevsky Cathedral is captivating to the eye. Sofia also boasts an impressive Natural History Museum. Creatures of the night will find a heady mix of entertainment in the pulsating nightlife. As usual, local cuisine is on hand to sustain your energy.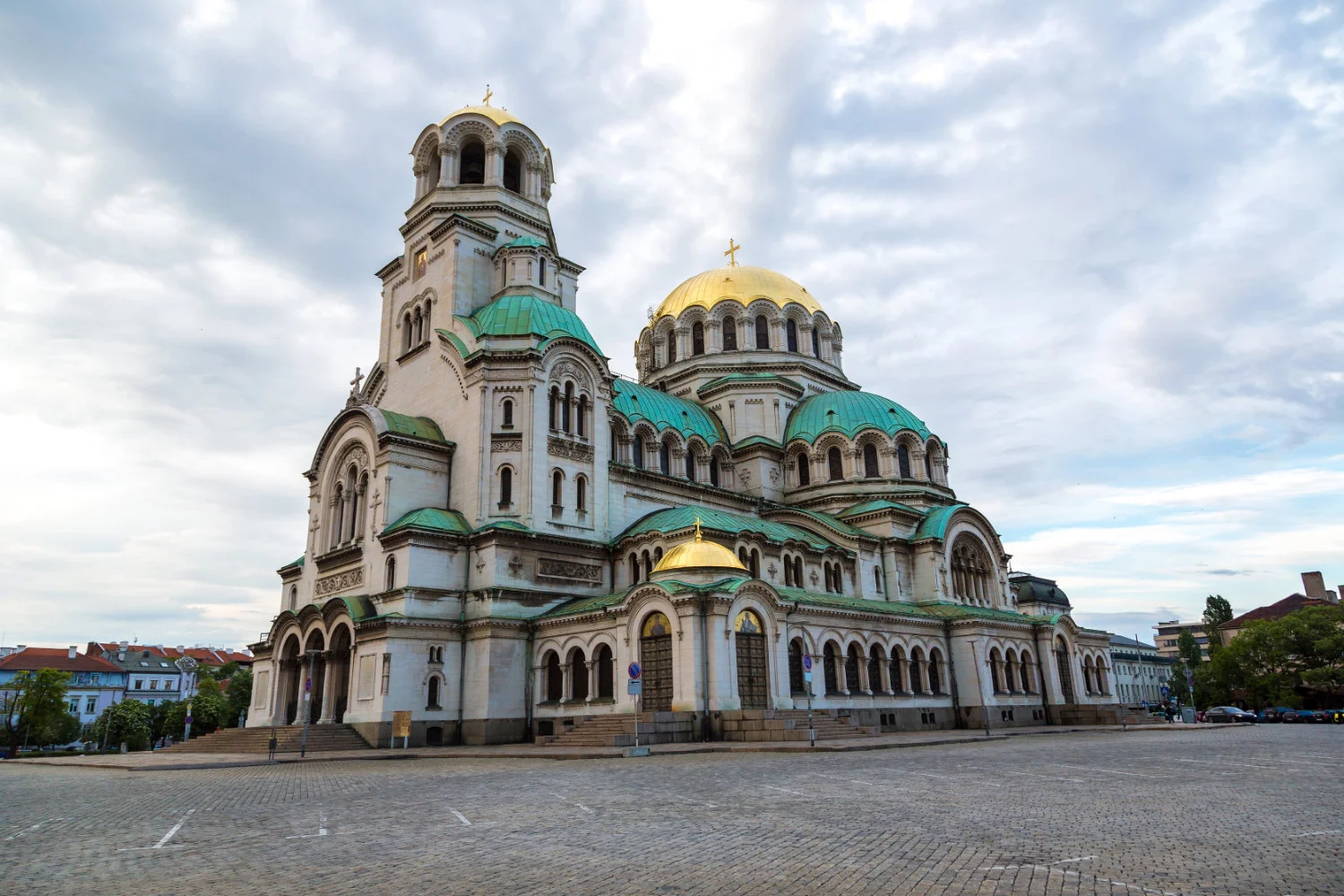 From Sofia you can easily continue your journey to the Black Sea, Greece or North Macedonia. While crossing the border with Greece is easy when you are a EU citizen, the North Macedonian border will take some time. It's not an EU member state yet to custom procedures result in waiting times at the border.
Popular Attractions between Belgrade and Sofia
Oplenac Royal Mausoleum (Topola, Serbia)
Just 15 km from the E-80, this important historical site is the resting place of members of the Karađorđević dynasty. The buildings contain stunning mosaics and decor.
Avala Tower
Close to Belgrade, along the E-80 motorway, the 204-metre tower offers panoramic views of the surrounding landscape and city.
Viminacium Archaeological Park (Kostolac, Serbia)
About 15 km off the E-80, near Kostolac, lies this fascinating ancient Roman city. Take your time wandering through the remains which include an amphitheatre, thermal baths, and mausoleums.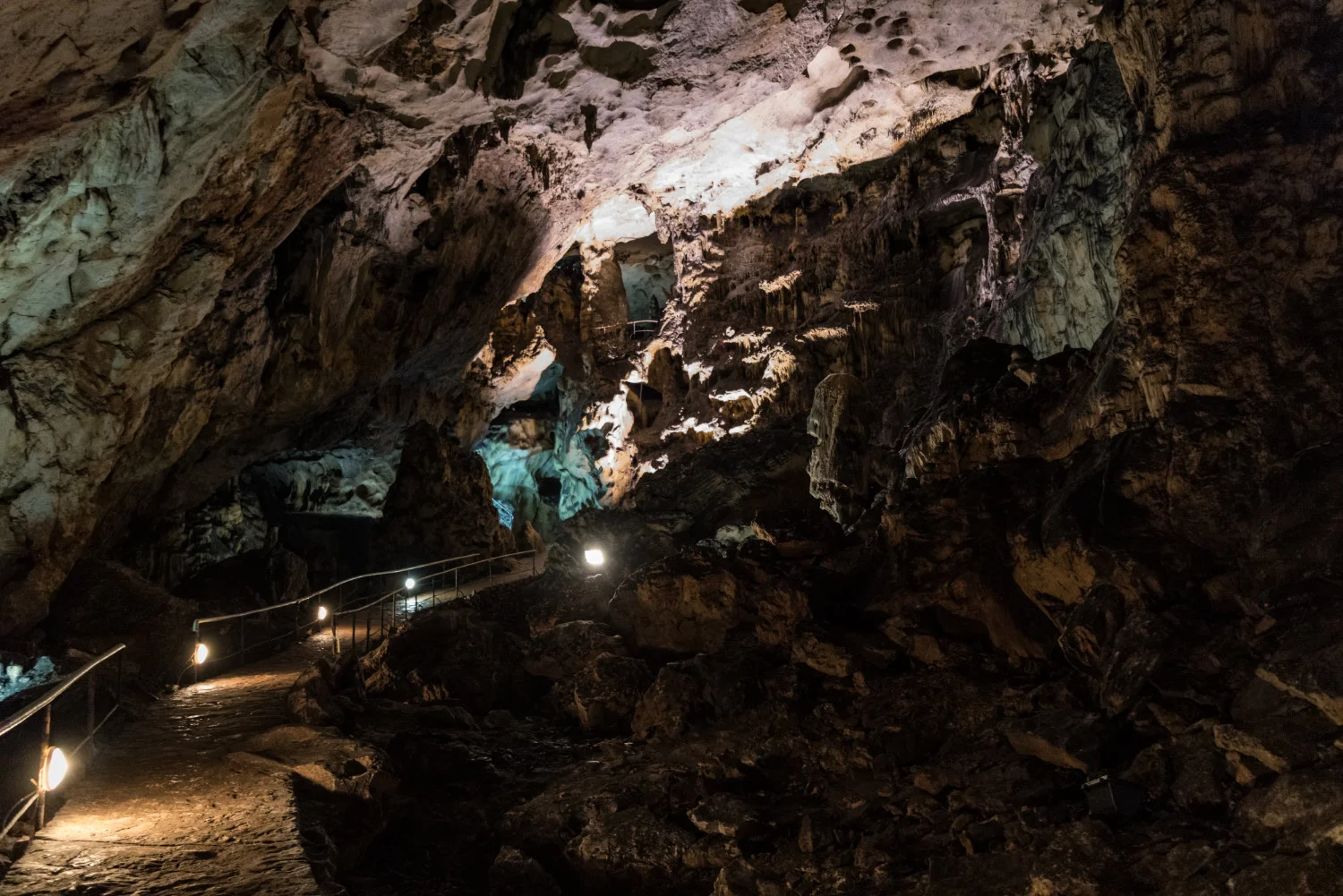 Magura Cave (Vratsa, Bulgaria)
A short drive off the E-80, just after crossing the border into Bulgaria, will take you to the town of Vratsa. Here, you can join a guided tour into the Magura Cave, marvelling at the rock art and otherworldly rock formations.
Traffic Regulations and Rest Areas
Be sure to adhere to the traffic regulations when travelling through both Serbia and Bulgaria
In Bulgaria, the motorway speed limit is 140 km/h (87 mph) and 90 km/h (56 mph) on non-motorways. In Serbia, the motorway speed limit is 130 km/h (81 mph) and 80 km/h on non-motorways.
Be sure to wear your seatbelt (and place children in appropriate seats), and do not use your mobile phone while driving. A valid driver's licence and liability insurance are mandatory.
From end to end, there are ample service stations and rest areas. They're a great place to stretch your legs, pick up some refreshments, and use the ablutions. Fuel is available, and some have restaurants and convenience stores. It is a good idea to factor in rest stops to keep yourself fresh for driving.
Border Crossing and Documentation
En route, you will cross the border between Serbia and Bulgaria at the Kalotina Border Post. You will need to present a valid passport, driver's licence, vehicle registration, and proof of insurance. Border checks are carried out at random and cooperation with border officials is obligatory.
Currency and Language
The Serbian currency is the Serbian Dinar (RSD), while the Bulgarian Lev (BGN) is legal tender in Bulgaria. It is a good idea to carry some local currency. Credit cards are accepted in major cities and towns.
Knowing a few key phrases in Serbian and Bulgarian can be helpful at times, although English is widely spoken in cities and tourist areas.
Seasonal Considerations
In summer, it is relatively hot, reaching up to 30°C (86°F). Winters can be cold to freezing, with the possibility of snowfall. Beware of ice on the roads. You are advised to check the weather before departure and pack accordingly.
For an interesting, scenic and uplifting road trip – whether just for the day or for a city break – the road between Belgrade and Sofia has much to offer. Whether your interest is culture, cuisine, history, or nature, there is a little something for everyone. The route is generally safe and well-managed, with support and services easily accessible.